Funding
Coronavirus Response Investment Initiative Plus (CRII+)
SMEs, Large Enterprises, Knowledge Centers, Government, Cities, Communities & NGOs
Grant, Loans & Investments, Equity financing, Guarantees
Research, Innovation, Growth, Infrastructure
Agriculture and forestry , Innovation , International Cooperation , Oceans and seas , Partnerships with Industry and Member States , SMEs , Energy , Health
Budget
TBD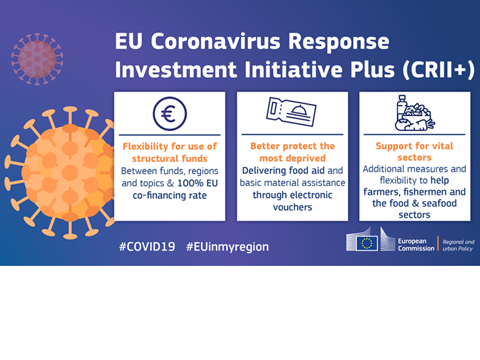 The European Commission proposed a new set of measures to mobilise support against COVID19 – Coronavirus Response Investment Initiative Plus (CRII+). The new package complements an earlier initiative by introducing extraordinary flexibility to allow that all non-utilised support from the European Structural and Investment Funds can be mobilised to the fullest. This flexibility is provided for through:
transfer possibilities across the three cohesion policy funds (the European Regional Development Fund, European Social Fund and Cohesion Fund);
transfers between the different categories of regions;
flexibility when it comes to thematic concentration;
a 100% EU co-financing rate for cohesion policy programmes for the accounting year 2020-2021, allowing Member States to benefit for full EU financing for crisis-related measures.
The CRII+ package also simplifies procedural steps linked to programme implementation, use of financial instruments and audit. This is unprecedented and warranted because of extraordinary situation that the coronavirus outbreak has led to.
Furthermore, CRII+ provides support to the most deprived by changing the rules for the Fund for European Aid to the Most Deprived (FEAD). For example, it will be possible to deliver food aid and basic material assistance through electronic vouchers and to provide the protective equipment, and thus lower risk of contamination. Also, it will be possible to finance measures at 100% for the accounting year 2020-2021.
In addition, amendments to the European Maritime and Fisheries Fund (EMFF) will enable a more flexible reallocation of financial resources within the operational programmes in each Member State and a simplified procedure for amending operational programmes with respect to the introduction of the new measures. The amendments will also provide support for temporary cessation of fishing activities and for the suspension of production and additional costs for the aquaculture farmers, as well as to producer organisations for the storage of fishery and aquaculture products.
For the second set of measures, the Commission consulted extensively with Member States, the European Parliament and the sectors concerned over recent weeks, taking account of the more than 200 clarification and advice questions received from national authorities concerning their handling of crisis response measures under the CRII.
Background
CRII+ follows to the first package of measures of the Coronavirus Response Investment Initiative, which concentrated on the immediate mobilisation of structural funds, to allow for a prompt response to the crisis. In this regard, a number of very important changes were introduced that extended the scope of support of the Funds, provided immediate liquidity and gave flexibility in programme amendments. The first Coronavirus Response Investment Initiative package consisted of three main elements: about €8 billion of immediate liquidity to accelerate up to €37 billion of European public investment, flexibility in applying EU spending rules and extend the scope of the EU Solidarity Fund.
More Information