Agency
European Institute of Innovation and Technology (EIT) - (other organisations)
SMEs, Large Enterprises, Government, Cities, Communities & NGOs, Knowledge Centers
Grant, Lump Sum, Loans & Investments, Procurement
Research, Innovation, Growth
Energy , Environment & Climate Action , Food & Healthy Diet , Funding Researchers , Health , ICT Research & Innovation , Innovation , International Cooperation , Key Enabling Technologies , Partnerships with Industry and Member States , Plastics , Raw Materials , SMEs , Social Sciences and Humanities , Society , Transport , Manufacturing, Culture & Creativity
Budget
The budget for the EIT between 2014 and 2020 is approximately EUR 2.4 billion euro
Other organisations
Other organisations include bodies set up as part of EU programmes and public-private partnerships between the European Commission and the industry.
European Institute of Innovation and Technology (EIT)
Role: To promote innovation in EU countries
Director: Martin Kern
Established in: 2008
Number of staff: 49
Location: Budapest (Hungary)
Website: EIT
The EIT helps businesses, educational and research bodies work together to create an environment conducive for innovation and entrepreneurship in Europe.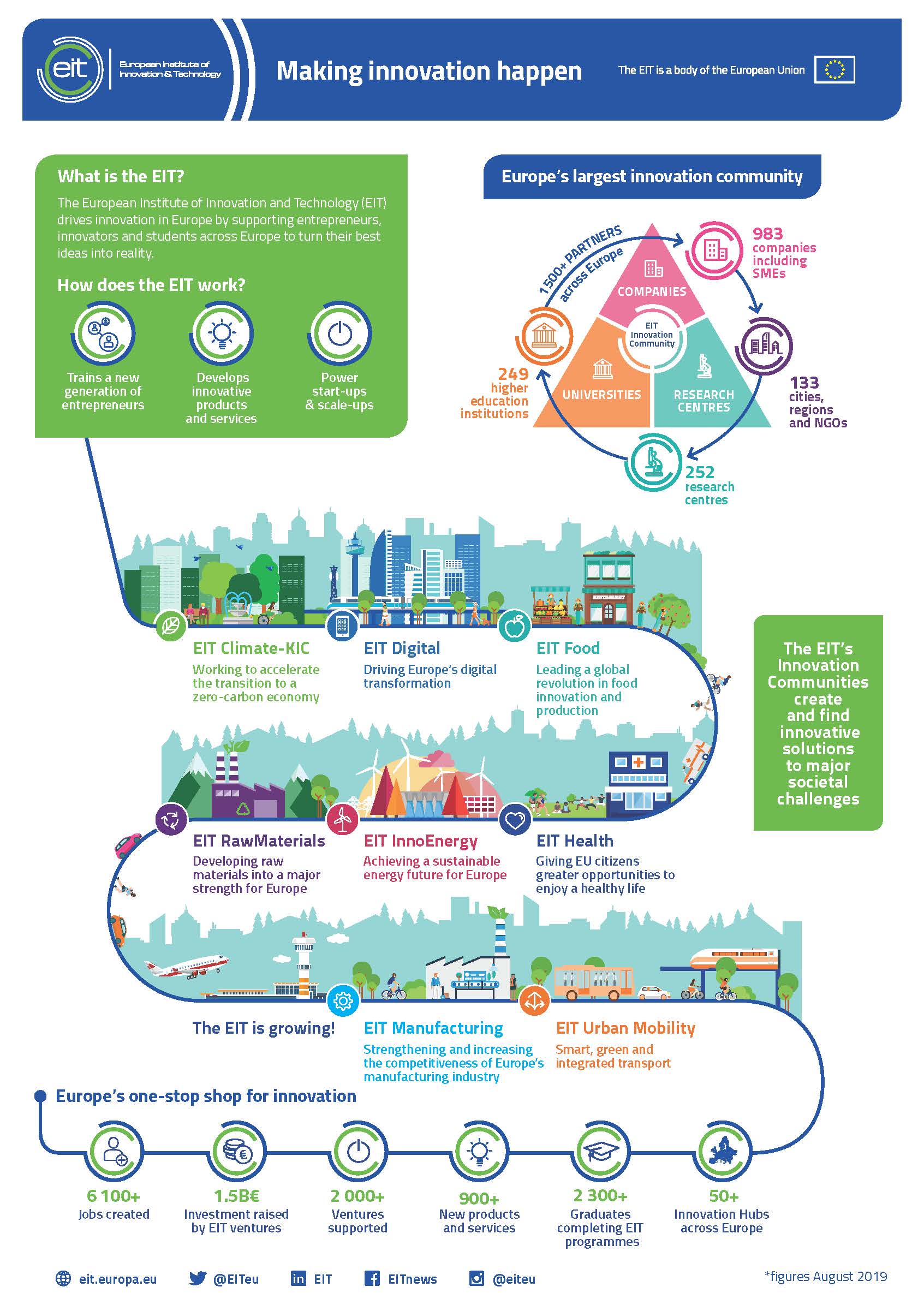 What it does
The EIT increases Europe's capacity to innovate, compete with foreign peers and so create jobs and wealth.
It brings together the 3 key players in innovation – business, education and research – to form dynamic, multi-country partnerships, known as Knowledge and Innovation Communities (KICs), which:
develop innovative products & services
start new companies
train a new generation of entrepreneurs.
Working closely together in these partnerships, leading companies, universities and research centres create more effective and innovative solutions for Europe.
Structure
The Institute's main governing body is the Governing Board, which brings together 15 prominent experts from the education, research and business sectors, as well as an observer from the European Commission.
The Board provides strategic leadership and overall direction for the operational activities implemented by the EIT Headquarters, led by the EIT Director.
Independent in its decision-making, the Board is responsible for selecting, evaluating and supporting the KICs.
How it works
The EIT's operations between 2014 and 2020 are defined in a Strategic Innovation Agenda (SIA) and Regulation. Key elements include:
The EIT also plays an integral role in the EU's current research funding programme – Horizon 2020 – addressing in particular social challenges.
Funding
The EIT funds Innovation Communities up to a maximum of 25 per cent. This funding is leveraged by the EIT by incentivising Innovation Community partners to invest in innovation and provide the remaining 75 per cent funding needed for their activities. With the 25 per cent seed funding, the EIT enables the Innovation Communities to attract capital from industrial partners and private investors.
The amount of funding that the EIT spends on administration at the EIT Headquarters is less than 5 per cent of its budget.
Who benefits
The EIT works with a wide range of innovation stakeholders, specifically:
See also
InnovEIT – the EIT Innovation Forum